14. What about the new V.90 56K modem standard?
For V.90 and K56Flex support, NetSide utilizes hardware from the following vendors:


V.90 56K available NOW!
Ascend Max 4048 is a new router that works with channelized T1 and ISDN PRI telco service. New digital lines on a separate rotary with access numbers in Dade, Broward and Palm Beach counties were installed to accommodate the equipment. The new PRI lines also support 64K/B channel ISDN dial-up. Since the Ascends use Radius and PAP/CHAP to authenticate PPP users, a special Radius user ID and password entry is required for every user authorized to access the new dial-up pool. Normally only users who reside in Broward or Palm Beach, or have V.90 or K56flex modems need this technology. There is a $10 one-time surcharge over regular setup fees (total of $25 for individual user setup) to connect to this pool, regular monthly tariff applies thereafter.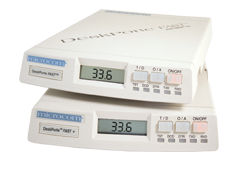 Does this look like a weenie Sportster?
Since 1995, NetSide used only top-of-the-line Microcom DeskPorte FAST+ commercial grade 33.6Kbps modems, fully V.34 and V.FAST compliant, and has a heavy investment in technology to protect. The existing analog modem pool will remain operational to support speeds up to V.34. All new modems added from now on by NetSide will be digital V.90 (also Rockwell and Lucent K56Flex compatible). US Robotics X2 modems remain compatible up to V.34 speeds (33.6kbps), unless properly upgraded to V.90.

This page is fully compatible with text-only browsers such as lynx.

Please address all correspondence regarding this page to:
admin@sunny.netside.net

Return to [NetSide Main Page]