AT ROJAM PRODUCTIONS:
Our Video Editing System consist
of state-of-the-art equipment.
You can be the director; sit with a
Professional editor and call the shots!
To enhance your production we can
Add Titles, Music, Photographs,
Digital Video Effects and Computer
Animations.
Our system is geared to create
The professional quality your
Productions require.

VIDEOTAPE EDITING SERVICE:
Now your homemade videos, old
Movies can be turned into
Professional video productions.
We can condense hours of homemade
Videotape and movies down to one or
Two hour videos using your best
Material and eliminating all the bad shots. (Shots of sky, ground, feet etc).
Bring your most memorable moments
To a professional quality without
Altering your original tapes in any way.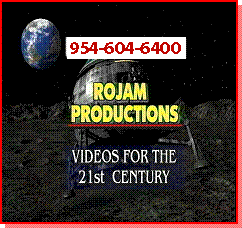 Our goal is to produce the most
Effective, comprehensive video for your
Needs. Your production will feature all
Your concepts and present them in an
Entertaining, appealing manner.
Our highly trained staff, certified in
Television production, take the utmost
Care in videotaping your presentation.
Special attention is given to all details
In order to capture completely the
Message you wish to impart with your
Video.
To insure the most outstanding picture
Definition, we use broadcast quality
Television cameras the same cameras
Used by television stations around the
Country.
Proper lighting is always essential
When videotaping. Our production staff
Will utilize a blend of natural and
External lighting to make certain your
Video has the highest picture quality
While maintaining the mood and
Atmosphere of the actual production.
Sound quality also plays an important
Role in the overall production. We only
Use high quality professional
Microphones enabling us to capture
Every word spoken distinctively.
In editing your finished product, all the
Special details are left intact. We use
Digital editing to enhance those special
Features by mixing in soft dissolves,
Special effects, computer animations
And titling.

Digital Technology...
Rojam Productions is proud to offer high end digital technology to our production clients. We use Sony 3-chip broadcast quality cameras. Our post production suite is a non-linear digital state-of-the-art editing system.
What this means to you as the client is that Rojam can provide you enhanced picture quality, greater reliability and quicker turnaround time.